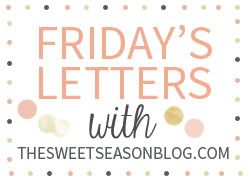 I really love that this link up exists (it's one of my favorites) because when I don't now what to post on a Friday (it's a hard day to get my brain to work well) it gives me ideas.
Dear Readers,
I haven't been able to think of good posts for a couple of days now. I am slightly overwhelmed with work right now. Also, we've started booking events over at
Beauty Mavens
! We're beyond excited, and we're also going to have a table at a bridal expo this summer in Boston! Cannot. Wait.
Dear Houses,
You're tough to shop around for. Although, I have to say I am pretty impressed with my ability to see beyond ugly trim and brown doors (I don't like medium wood colored interior doors for some reason! Give me white!!) I think my consumption of HGTV over the past few years as made me realize that cosmetic changes are super easy (and possibly even really fun?!). Bring on the ugly living rooms, I'm ready for you, brass and brick and weird fireplaces!
Dear Sephora Nail Art Things,
You're awesome. You work so well. We're going to be great friends.
Dear Spring Accessories,
I'm really feeling you right now, especially some of you nautical pieces. I got inspired to make a little collection of you. If it wasn't my birthday soon and if I didn't subsequently feel guilty about buying things for myself, I'd get a couple of you (although I did have to buy a Freebie Friday anchor bracelet yesterday
here
). I am also eyeing
Lemon and Line
bracelets. I would wear every single one and they'd be perfect for our Newport trip this summer!
1
|
2
|
3
|
4
|
5
|
6
|
7
|
8
|
9
P.S. My nephew was born yesterday!!!! Ryan Henry (how cute is that?). I can't wait to hold him this weekend!!